The coronavirus pandemic has resulted in a complete shift in brand strategies for many businesses worldwide. As public relations specialists, we see first-hand the rapid changes brands are currently undergoing. In a time where change is constant, it is important for businesses to reevaluate current brand strategies so it can continue moving forward. Here are a few tips to help your business adjust its content and public relations strategies during the coronavirus pandemic:
Be Creative
Position the company by being present. Now is more important than ever to make a company known in the specific market and community by thinking outside the box. Monitor what people are saying about the company and its competitors. This can uncover common trends and content opportunities that are relevant to your audience and the brand.
A good example is Nike, which put out a campaign encouraging people to 'play inside' as social distancing measures were being enforced. The campaign, which read, "If you ever dreamed of playing for millions around the word, now is your chance. Play inside, play for the world," was reposted by brand ambassadors including Michael Jordan, Lebron James and others.
Be Empathetic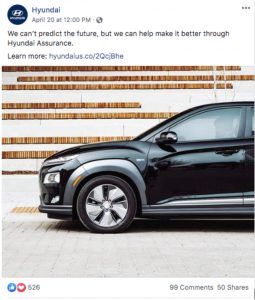 Everything has been impacted by COVID-19 in some way. As social distancing and stay-at-home orders continue, people are connecting through digital channels more than ever before. Content and messaging that understands and sympathizes with people is key to engaging with audiences on a personal level.
Hyundai, for example, offered up to six months of payment relief for people who bought or leased a Hyundai during the months of March and April this year and then lost their jobs due to the pandemic.
The decision to shift its brand strategy was more than likely due to the positive feedback it received from its Hyundai Assurance Program that was launched during the 2008 – 2009 recession. Response was so positive that the promotion ran for over two years and the automaker was named the Marketer of the Year.
Try New Things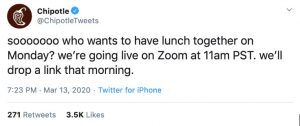 Now that times are changing faster than ever before, it is the perfect opportunity to try new content strategies and approaches. Although it may seem challenging since the public is focused on a global event, there are tricks to positioning a company in the community and media, even when a topic is dominating every medium.
Chipotle, for example, joined the virtual meet-up movement and hosted a series of digital lunch parties on Zoom. The parties featured Q&A's, celebrity guests and free burrito giveaways.
The coronavirus pandemic has impacted just about every company in some way, forcing them to rethink brand strategies and messaging alike. During a worldwide pandemic, it is important to ensure the brand does not come across as tone deaf or that the messaging does not exploit a public health crisis. By following these tips – being creative, empathetic and trying new things – your brand will be able to adjust its public relations and content strategies and continue moving forward in a positive direction.